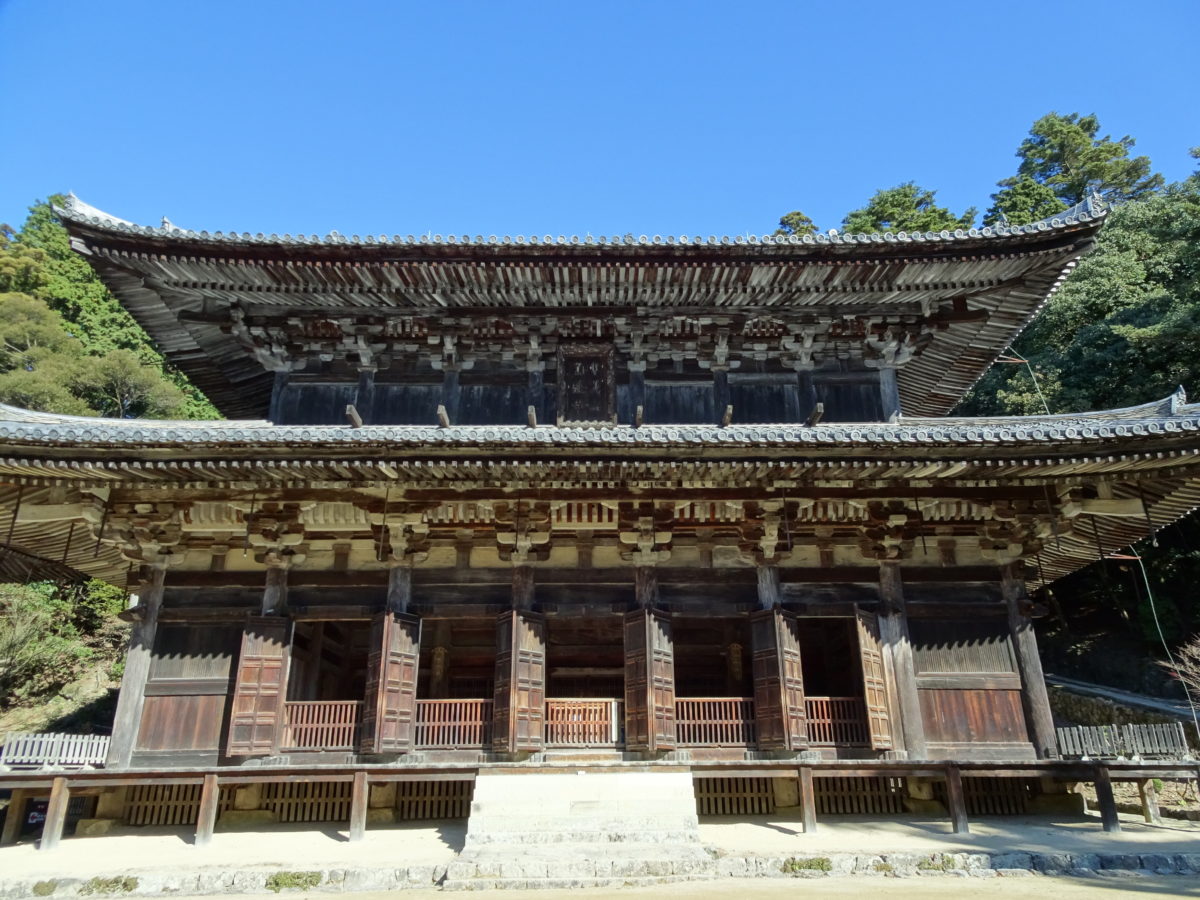 The tour location is about 30 minutes by car from Himeji Castle, also called "White Egret Castle". Ride the Mt. Shosha Ropeway and reach Sanjo Station at the summit in about 4 minutes while looking out over Awajishima, the Iejima Island chain, Tangashima, Shodoshima, and more, over deep valleys surrounded by trees that are hundreds of years old and into dignified forests. Engyoji Temple is an old temple of the Tendai sect and is called the "Mt. Hiei of the West"; it is number 27 on pilgrimage route of 33 temples of the Saigoku region and is also the largest. In addition to being listed in the Michelin Green Guide, it is also known as a set for both Japanese and Hollywood movies, and is known as a place where "Real Japan" can be felt. It is said that the structure was built in 966 by the monk Shoku, and that many parishioners came to visit the three halls. There is a hall for copying sutras, an exhibition hall for temple treasures, and the great lecture hall which was originally a place for disciplines to sleep, eat, and study and which is the main auditorium of Engyoji Temple.
Guests can make an appointment to use the Jogyodo Hall, where they can practice Zen meditation and spend time in calmness being watched over by the seated statue of the principal image Joroku Amida Nyorai Buddha. Furthermore, guests can have the opportunity to experience old Buddhist culture through 'shojin ryori', which is vegetarian Buddhist cuisine, and spend a night at a facility or sub-temple within the precincts. Guests can reserve one month in advance to experience a unique Buddhist chanting ceremony of the Tendai sect in the Jogyodo Hall if there are no special events scheduled at the time of visit. This is an unusual experience that is not readily available even to Japanese people.
HIGHLIGHTS 01- Sutra Singing at the Jogyo-do Hall
This hall was used by monks in training during this ascetic ritual in which they would circle around the main image of the Amida Buddha while chanting; guests can experience this chanting ritual of the Tendai sect that is part of a liturgy ceremony in which the sutras are sung aloud. Reservations are required at least 1 month in advance. As there are no parishioners in the hall, the liturgies echo in this quiet space. Additionally, a Zazen meditation experience is available in the Jogyo-do Hall (reservations required at least 3 days in advance).
HIGHLIGHTS 02 – Try your hand at calligraphy at the Engyoji Temple lecture hall
Built in 1174, the lecture hall 'Jiki-do' was originally used by monks in training for sleeping and dining and is an Important Cultural Property. Also called 'Cho-do', which means "long hall", this wooden-planked hall is about 40 meters in length; guests can calm their hearts and try calligraphy with monks while being watched over by the principal image of the Monju Bodhisattva as a monk. Reservations are required at least 1 month in advance. The scent of ink drifts through the quiet space.
HIGHLIGHTS 03- Experience a Dedication Ceremony
In the open space in front of the three halls, guests can watch "Iaikiri" swordsmanship or other dedication ceremonies, as well as see and touch an actual sword. As this is a filming location for the Hollywood movie "The Last Samurai", a samurai experience is also available. Reservations are required at least 1 month in advance.
HIGHLIGHTS 04- Enjoy vegetarian Buddhist cuisine at Juryo-in, a sub-temple of Engyoji
The Juryo-in sub-temple, an Important Cultural Property, is located in the East Valley area of the Engyoji complex and provides an opportunity to enjoy Buddhist cuisine that does not utilize any animal
products. Meals are created based on past event records of Engyoji but have been updated to suit modern tastes. Meals are served on rare and unusual red lacquerware known as 'shosha-nuri'; the
lacquerware is hand-painted a bright red vermillion color. (Available between April and November excluding Tuesdays and Thursdays; please reserve at least 3 days in advance. The basic plan is for 5
people or more, but please inquire if otherwise.). Noted in the Michelin guide.
For①②③, these experiences are held before the ropeway begins running; therefore, it is necessary for guests to lodge in temple lodging the night beforehand.